National Assembly President Doctor Xaysomphone Phomvihane Unveils Kaysone Phomvihane Monument in Vilabouly District, Savannakhet
June 15, 2021
15 June 2021, National Assembly President, HE Dr Xaysomphone Phomvihane, unveiled a monument in Vilabouly District, Savannakhet Province, dedicated to former Lao President and father of the Lao nation, HE Kaysone Phomvihane.
Accompanied by a large delegation, including Savannakhet Governor, Mr Santiphab Phomvihane, Dr Xaysomphone also visited Lane Xang Minerals' (LXML) Sepon Mine to review progress in gold production and LXML's environment, safety, and community development achievements. LXML is a model enterprise in Lao PDR and is consistently awarded an A+ rating by the Ministry of Energy and Mines for maintaining international mining, environmental protection, community development, and safety standards.
The monument to President Kaysone Phomvihane was supported by LXML's Community Trust Fund, which has also established a Cultural Heritage Centre in Vilabouly District to encourage tourism to the region.
"At LXML we always strive so support the development of our employees and host communities" said Mr Saman Aneka, LXML Managing Director.
"We are very proud to support this monument in Vilabouly District, in the heart of Savannakhet Province, home to the founder of the party and the Lao Peoples' Democratic Republic (Lao PDR), dedicated to former President Kaysone Phomvihane."
The ground-breaking ceremony took place at Vilabouly District Office. Under leadership of Vilabouly District, in collaboration with LXML, construction commenced in February 2021.
Since 2003, LXML's Community Trust Fund (TF) has invested US$10 million to support Vilabouly District and Savannakhet Province to improve livelihoods in alignment with the Lao Government's National Socio-Economic Development Plan.
As a significant development partner in Lao PDR, LXML is committed to mining for excellence and prosperity for all.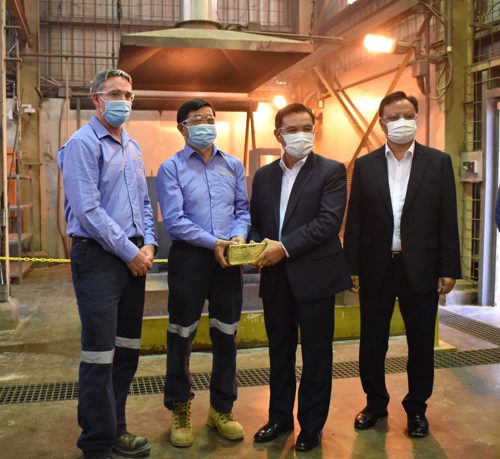 Photo: HE Dr Xaysomphone Phomvihane, National Assembly President (2nd right) holds a gold doré with Mr Fu Xuesheng, LXML President (2nd left) along with Mr Santiphab Phomvihane, Savannakhet Governor (right), and Mr Paul Harris, LXML General Manager (left).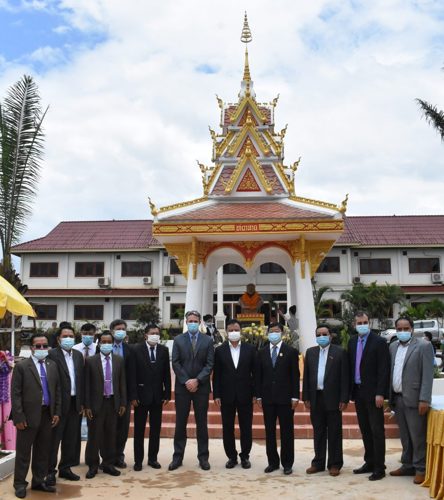 Savannakhet Governor Mr Santiphab Phomvihane, (5th from right), LXML President Mr Fu Xuesheng (4th from right), LMXL General Manager Mr Paul Harris (6th from right) attends the ceremony to unveil the monument of the former Lao President in Vilabouly District Savannakhet Province.