Communities
Sepon has contributed over US$1.6 billion in direct revenue to the Lao Government through taxes, royalties and dividends since operations commenced in 2003. Indirect benefits through employment, training, community, and local business development have also contributed hundreds of millions of dollars to social and economic development in the Lao PDR.
Community Trust Fund (TF)
Over 40,000 people in 72 villages around the mine have better livelihood through better access to basic services by being empowered to set and achieve their own development priorities through the Community Development Fund and Fund for the Assistance to the Disadvantaged Groups. Combined funds of more than US$13 million have supported over 583 projects, including investment in schools, hospitals, clinics, and medical supplies, sanitation and water supply, roads, latrines, and agriculture through irrigation and other projects.
Fund for Assistance to the Disadvantaged Groups (FADG)
FADG is targeted towards improving access to basic services to the community through a participatory program where villagers choose, select and contribute, implement and own livelihood projects.
FADG has invested over $3.2M to benefit over 47 communities near Sepon mine.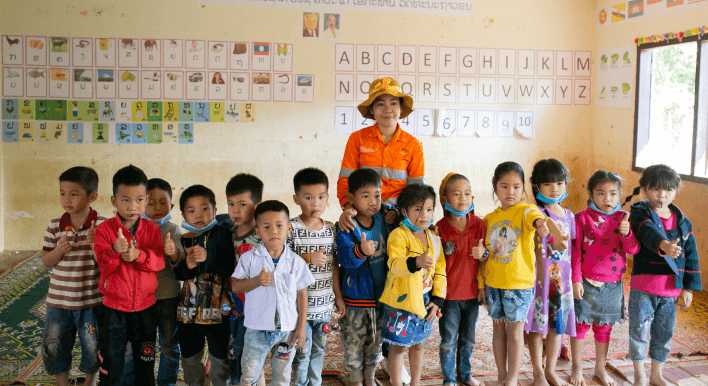 Local Business Development
LXML's business development programs aim to diversify income opportunities, create a climate for new businesses to flourish, and assist in building sustainable livelihoods for the local community beyond mine closure. LXML purchases US$6 million (75% of its fruits, vegetables, and local produce) through 48 local businesses, having delivered a combined income over US$47 million, creating over 500 jobs for local people.
Respect for Cultural Heritage
LXML supports 3,000 years of Lao history and heritage through a unique partnership with the Department of Heritage of the Lao Ministry of Information, Culture and Tourism, the National University of Laos, and James Cook University of Australia. The team discovered artefacts and heritage sites in and around Sepon mine. A recent finding dated over 3,000 years ago has shown us how ancient mining was practiced in this area.
Since 2003, LXML has invested over US$1.5 million to support archaeological research and cultural heritage preservation for future generations in Lao PDR.
In March 2018, archaeologists discovered evidence of more than 100 ancient mining shafts. Other recent findings include tools used in early mining that have been carbon dated to approximately 3,000 years ago. Vilabouly is one of the first mining and metallurgy sites in Southeast Asia. These dates have been confirmed from examination of bamboo matting found in the ancient mine-shaft support structures preserved in wet clay below the surface (10 to 40 meters deep).
"Excavations have uncovered a rich history of mining and settlement showing how communities refined and exchanged minerals and metals for thousands of years" said LXML Vice General Manager, Mr Saman Aneka.
During the excavation process, teams found mining equipment such as wooden ladders, pulleys, mallets, painted bamboo baskets, and rope made from lianas, as well as weapons, jewelry and ancient pottery. Many of these items are on display in the Vilabouly Cultural Hall. Other important heritage findings include a large "Dong Son" bronze era drum on display at the National Museum in Vientiane.
UXO Clearance
There are historical challenges associated with operating in what was once a battlefield. Sepon is located on the intersection of the so-called 'Ho Chi Minh trail' and Vilabouly is one of the most heavily bombed area in the country. UXO clearance is therefore an essential part of the mining process at Sepon.
LXML integrates UXO clearance as an essential activity in our mining cycle. LXML conducts UXO operations in partnership with the Lao Government to enhance technical capacity and improve UXO clearance practices to improve security and safety for future generations and return available land to agricultural production.
$54 million invested in UXO clearance
Over 5,700 hectares of land cleared
Over 58,500 UXO items destroyed
Developed internationally accredited senior explosive ordnance (EOD) disposal training –first of its kind between private sector, Lao Army, and humanitarian body.