LXML Sepon mine congratulates 434 employees for long service
December 05, 2022
Vientiane Capital, Lao PDR – To commemorate Lao National Day on 2 December 2022, Lane Xang Minerals Limited (LXML) Sepon Mine acknowledged 434 employees for long service from five to over twenty years. 132 of these employees have worked with LXML for five years, 238 for ten years, 55 for 15 years, eight for 20 years, and one for 25 years.
In 2023, LXML will celebrate 20 years since operations commenced. Over the life of Sepon mine, more than 10,000 employees have contributed to the growth of LXML Sepon, learning professional skills and creating livelihoods.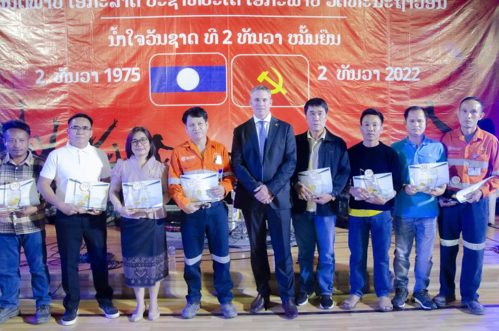 Of a total workforce of approximately 5,000 employees and contractors, 95% of LXML employees are Lao, 75% are from local communities, and 20% of these are women. Over several decades, LXML has invested millions of dollars in human resource development, including scholarships, internships, on-the-job training, and apprenticeship programs. LXML is continuing to support career growth and employee aspirations to develop Lao professionals for the benefit of the Lao PDR.
"The skills and experience employees have attained throughout the years are invaluable" said Paul Harris, LXML President the ceremony. "These employees are an important asset for LXML, and the skills that each of you have gained will stay with you wherever your work in Lao PDR. LXML will continue to invest in the human capital of Lao PDR through ongoing training, coaching, and career advancement."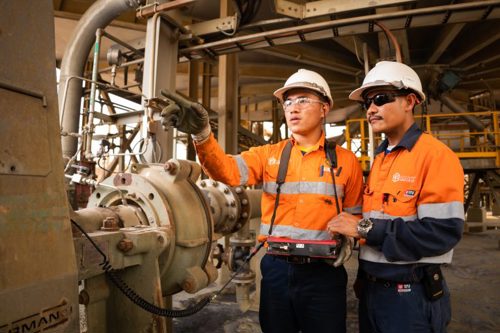 In August, LXML entered a partnership with the Lao German Technical College to provide technical scholarships for communities in Vilabouly District near Sepon mine. Apprentices will receive vocational training in electrical-electronic, mechanical, fabrication, heavy equipment and automotive technology trades. Upon graduation, they will be offered the opportunity to secure a job with LXML. This program will run until 2027.
Since operations commenced in 2003, LXML has invested millions of dollars in training, scholarships, apprentices, traineeship, and internships. More than 105 Lao participants graduated from the apprenticeship program, and 36 professionals graduated from overseas higher education scholarships.
To date, LXML has provided 959,744 training hours to Lao employees through internal, external, on-the-job training, and overseas study. Since June, LXML has reinstated its popular Supervisor and Leadership Development programs to support the next generation Lao mining professionals.
Since operations commenced, LXML Sepon has contributed over US$1.6 billion in direct revenue through taxes and royalties to the Lao Government, and hundreds of millions in indirect benefits through community development, employment, and training.