Lane Xang Minerals Limited Sepon pays US$17 million profit tax for 2020 to Lao Government
April 07, 2021
Lane Xang Minerals Limited (LXML) Sepon mine handed a cheque for US$17,229,742 to Mr Thammaloth Rasphone, Deputy Director General of Tax Department, Ministry of Finance, in profit tax in respect of 2020 earnings. In 2020, LXML paid over US$32 million to the Lao Government in royalties and taxes.  LXML produced over 2 tonnes of gold in 2020.  Since operations commenced in 2003, LXML has paid more than US$1.5 billion total direct revenue to the Lao Government in royalties, taxes, and dividends.
"LXML is proud of our contribution to socio-economic development in Lao PDR" said Mr Saman Aneka, LXML Managing Director. "In addition to direct revenue, LXML has contributed hundreds of millions of dollars in employment and training, infrastructure, and local business and community investment. LXML is committed to safety, international standards, and respect for host communities.  LXML's social and environmental standards are regularly cited as an example to other operations. LXML is the only mine in Lao PDR to consistently achieve an A+ rating from the Ministry of Energy and Mines."
Sepon mine employs thousands of Lao people and has invested millions of dollars in development and training.  More than 40,000 people in Vilabouly have benefitted from over US$13 million in development projects. Local income through business groups has reached US$33 million since operations commenced.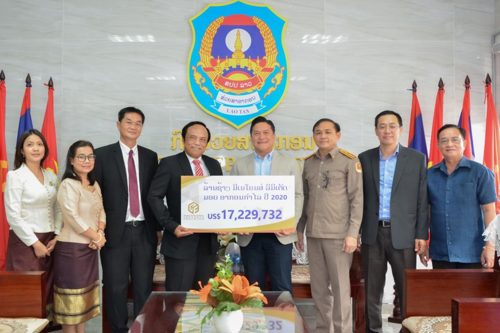 Photo: Mr Thammalot Rasphone, Deputy Director of Tax Department, Ministry of Finance (right) receives a cheque
for LXML's 2020 profit tax from LXML Managing Director, Mr Saman Aneka (left).