LXML Sepon mining and modelling operational and environmental excellence in Lao PDR
June 15, 2022
15 June 2022
By: Paul Harris, Chifeng Director & Executive President, LXML General Manager
As the international community celebrates World Environment Day, it's timely to highlight Chifeng LXML Sepon's commitment to and performance on environmental protection. At LXML, we always minimise our environmental footprint and comply with international and local regulations and standards. Our company is often cited as an example of best practice on sustainability and community development in the Lao PDR and Southeast Asia region.
LXML was among the first companies in Lao PDR and Southeast Asia to achieve ISO 14001 accreditation for environmental management systems. LXML has conducted several independent reviews and baseline studies since operations commenced in 2002 to ensure mining activities comply with regulations. We regularly measure our impact on local communities and the environment.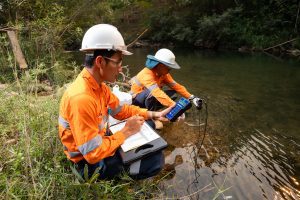 Our Commitment in Practice
LXML is committed to reducing environmental and social impact from operations by monitoring water and waste management, conducting progressive rehabilitation, and preparing for mine closure in consultation with stakeholders at all levels.
Since operations commenced, Sepon has invested approximately US$20 million in environmental management and rehabilitation. With the cooperation and support of local communities, we conduct awareness campaigns and respond quickly to any concerns. LXML provided approximately one million dollars to establish Vilabouly's first landfill facility. We collect 750 water samples monthly (175,000 water samples since 2003) to ensure water quality in surrounding communities.
Since 2008, LXML has rehabilitated 452 hectares of land. The company is committed to returning land to a state that supports public safety and protects resources through sustainable revegetation. LXML uses natural materials sourced from local businesses to stabilise land (approximately US$100,000 every year); providing business opportunities and employment. LXML's community-based rehabilitation team planted over 450,000 trees using locally sourced and propagated species. Many species (sandalwood, bamboo, and rattan) include varieties that will provide economic benefits to the community for many years into the future.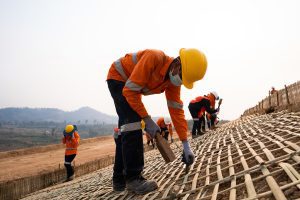 Preserving Biodiversity
Lao PDR boasts bountiful natural resources, forest cover, and biodiversity. LXML's environmental protection and biodiversity programs support local communities and protect these resources for future generations.
LXML has sponsored several projects with WCS (Wildlife Conservation Society), IUCN (Internatinal Union for Conservation of Nature and Natural Resources), and other development partners. The company invested approximately US$1 million on biodiversity programs aimed at preserving endangered wildlife habitats close to Sepon mine to protect species of high biodiversity value to Laos and the region, including the Community Based Crocodile Recovery and Livelihood Project, a partnership between Champhon district, and IUCN, aimed at protecting Siamese crocodile that are listed by IUCN as a critically endangered species. The company has also invested in programs to monitor the migration and behavior of elephants surrounding the mine.
In 2009, an LXML project resulted in the discovery of the first songbird 'Bald-face bird' in mainland Asia. This project led to a research into areas of potential biodiversity significant in Savannakhet province, with the cooperation of scientists from the Lao Government, National University of Laos, and WCS.
In 2015, LXML supported a survey on bat biodiversity near Sepon mine. The findings served as baseline data in assessing potential project-related impacts on the terrestrial ecosystem, identified conservation related issues and mitigating measures. This survey resulted in the capture and release of approximately 180 bats, representing 30% of documented species in Laos.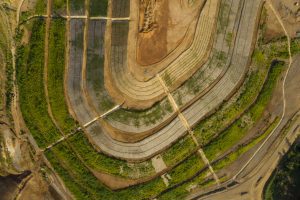 Partnership for Development
LXML works closely with the Lao Government at all levels and local communities to ensure compliance and capacity building in environmental management.
In 2018, LXML signed an MoU with the Ministry of Natural Resources and Environment to support capacity building and establish an Environmental Management Unit (EMU) in Vilabouly. The partnership enhanced capacity in environmental management across the resources sector.
Community Benefits
As in any other parts of the world, Laos PDR is prone to the impacts of climate change like occurrence of flooding. Vilabouly was hard hit by flooding in 2010/2011 and again in 2018, where 30% of the villages were affected and farmland damaged. Over the years, LXML has provided financial and in-kind assistance to those affected by flooding in Vilabouly, Savannakhet and other parts of Laos totalling about US$500,000.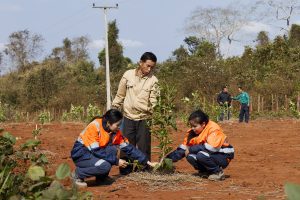 Building Environmental Awareness
Protection of the environment is a cornerstone of our business. LXML encourages employees to participate in initiatives such as recycling waste, where plastic bottles, bags, paper, and food waste is recycled for reuse.
World Environment Day is celebrated every year at Sepon mine. We inspire employees and communities to raise awareness on environmental issues through cultural heritage projects, arts, fashion shows, and exhibitions. This year, LXML is planting around 9,000 trees around Sepon Mine as part of our rehabilitation program, in Vilabouly District and schools in Savannakhet province on the occasion of Arbor Day.
As we observe World Environment Day, let's remind ourselves about saving the #OnlyOneEarth we live in. It is important that business cooperates with all stakeholders, especially local communities, on environmental stewardship, so we minimise our footprint and impact on the environment.