Lane Xang Minerals Limited Supports SVK Hospital ICU Building
May 25, 2023
The Savannakhet Hospital received a 100,000,000kip financial support to renovate its ICU facility . The renovation will be able to accommodate more critical patients and uplift the hospital's capacity to respond to emergency cases particularly road accident trauma.   
"Savannakhet is the most populated province in Laos and one of the economic hub of the country," said Mr Saman Aneka, Managing Director. "Timely and effective medical response is paramount. Thus, we hope that our assistance will enhance Savannakhet Hospital's ICU services in timely and effectively responding to its patients".
Savannakhet Governor Mr Bounchom Oubonpaseuth received the financial support on 21 May 2023, as part of a fundraising event for renovation of the Savannakhet Provincial Hospital.
Over the years, LXML has provided medical supports and equipment to Savannakhet Hospital including anaesthesia equipment, infant incubators, oxygen apparatuses and other essential items. To date, LXML has provided US$120,000 to Savannakhet Hospital.
"I am proud to support Savannakhet Hospital as this directly benefits women and children in our community" added Mr Saman Aneka, Managing Director. "LXML is committed to safety and supporting the health of our employees and communities.  Most employees from Sepon mine live in Savannakhet, and this support demonstrates our ongoing commitment to progress and development."
In 2021, LXML contributed US$100,000 to build a field hospital in Savannakhet Hospital and supported the Government's efforts in responding to the COVID-19 pandemic.
In the past, LXML entered a unique partnership with the Ministry of Health, the Lao Women's Union and UNICEF extended US$2.9 million for the 1000 Day Project to address maternal and child malnutrition.
LXML invested US$270,000 on a Mother and Child Health Project with the Burnet Institute between 2008 and 2011. From 2010 to 2017, LXML supported the Annual Lao Paediatric conference, organized by Health Frontiers, with the aim of improving paediatric health care by sharing best practices. LXML has also provided extensive support to Vilabouly Hospital, and Mittaphab Hospital in Vientiane including purchasing ambulances, donating incubators and other essential medical equipment, building new wards, expanding potable water supply systems, and implementing sanitation programs.
LXML is committed to continue investing in our community development programs to support resilient livelihoods beyond mine closure, including improving provision of basic health services and maternal and child health.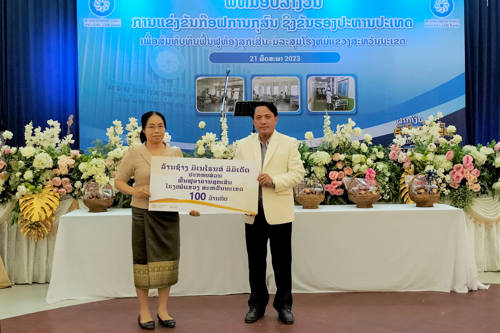 Savannakhet Governor Mr Bounchom Oubonpaseuth (right)  received the 100,000,000 kip financial contribution from LXML representative Ms Ladsany Sisane, Government Relations Superintendent (left) at the handover ceremony held at Daohoung 1 Restaurant on 21 May 2023.