Lane Xang Minerals Limited Sepon hands scholarships and educational assistance packages to students in Vilabouly District
February 19, 2020
Last week, Lane Xang Minerals Limited Sepon Mine (LXML) handed fourteen scholarships to the best graduating students of secondary schools and educational assistance packages to twenty students from fourteen villages near Sepon Mine, Vilabouly District of Savannakhet Province where LXML operates its copper and gold operation. This US$12,600 financial injection will give the students the opportunity to further gain better education in institutes and universities, and eventually receive optimal outcomes in their living, well-being and livelihood in the years to come.
"I believe that by providing scholarship funds for further education and promoting and rewarding excellent students, we will develop the best capacity for the next generations to come, and will provide long-term sustainable outcomes for the community" said Paul Harris, LXML General Manager.
The handover ceremony was chaired by Vilabouly District Governor Mr Khamphouy Sibounheuang, LXML President Mr Fu Xuesheng, LXML Managing Director Mr Saman Aneka, LXML General Manager Mr Paul Harris, Deputy Head of Vilabouly Education and Sports Office Mr Viengxay Saysavath with the presence of teachers, students, and their parents.
One of the scholarship recipients Mr Sonephet Anom, 22 years from Namkheun Village of Vilabouly District undertaking a diploma in finance and accounting at the Champasack University expressed his appreciation: "I am very happy for receiving this scholarship as it will reduce the burdens on my parents and siblings."
These scholarship and educational assistance package support is funded through LXML's Community Development Trust Fund, which has delivered benefits to the local communities and future generations around Sepon mine for over fifteen years. Since 2003, the annual fund has increased significantly over the years from US$96,000 to US$750,000 per year, and this contribution will continue until the Sepon mining operation is closed for at least another ten years.
To date, US$9.5 million has been invested in the Community Development Trust Fund focused on improving the basic infrastructure requirement for the communities and districts in terms of health, education and agriculture (cash crop), and livelihood. The Trust Fund assists the government in supporting and developing the local communities surrounding the Sepon mine, in order to improve the living conditions and create better livelihoods for the people.
Moving forwards, scholarship programs will further be provided to the most disadvantaged students from the poorest families of villages around Sepon mine and those who have not failed any subjects will receive scholarships to further vocational studies and have work to do after graduation.
Prior to 2019, LXML provided scholarships to six students, of which three have already graduated.
"These students that study hard will get an opportunity for further education at an institute or university, or may even get a chance to study overseas" concluded LXML General Manager Paul Harris.  "They will develop the capacity to run businesses, or get high paying jobs at places like Sepon. They will be able to achieve big goals and dreams for themselves and their communities."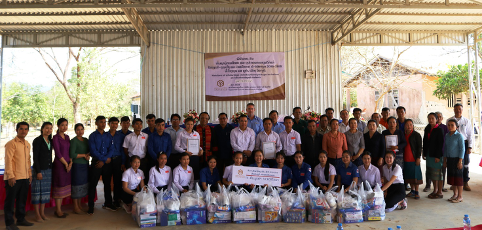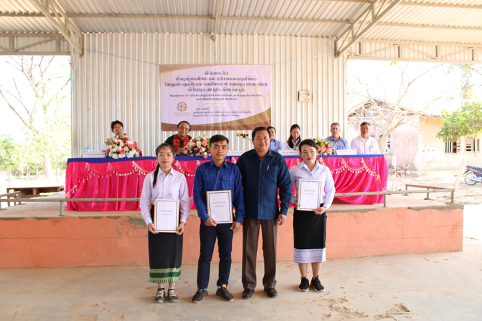 For further information please contact:
Sonepraseuth Niradsay
Superintendent – PR & Site Communications
Tel:            856 21 268 408
Fax:           856 21 268 001
Mob:        856 20 2999 6461
Email:       sonepraseuth.niradsay@lxml.la
Note to Editor:
Chifeng Jilong Gold Mining Co., Ltd (Chifeng) is a Shanghai – listed metals producer headquartered in Chifeng, Inner Mongolia. Chifeng is a leading gold producer in China, and is specialised in gold acquisition and integrated resource recovery and utilization. From 30 November 2018, Chifeng assumed ownership of Lane Xang Minerals Limited's (LXML) Sepon mine after MMG completed the sale of its 90% interest in LXML. Chifeng now owns 90% and the Lao Government owns 10% share in LXML.