Lane Xang Minerals Limited Sepon extends 80 million LAK support to the Lao National Chamber of Commerce and Industry
February 03, 2021
On 2 January 2020 – Lane Xang Minerals Limited sponsored the activities of the Lao National Chamber of Commerce and Industry (LNCCI) with support of 80 million LAK.  LXML has contributed as an active LNCCI member in support of the private sector in Lao PDR for over eight years. LXML acknowledges LNCCI's important work supporting Lao businesses through the global COVID-19 crisis.
"LXML's contribution to the private sector demonstrates how 'mining excellence creates prosperity for all," said Mr Chanthone Naovalath, LXML Deputy Director. "We work together to be a good example to attract international investors and local companies to support LNCCI, SMES, and the broad private sector in Laos."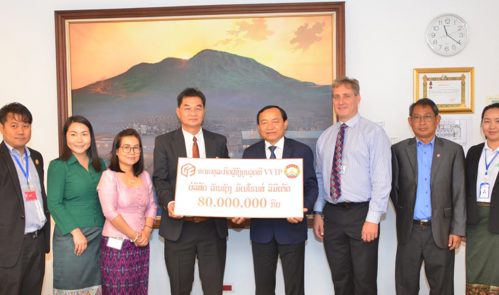 LXML received a Lao Business Award in 2019 for social and economic contributions to sustainable development in the Lao PDR. The company also received an ASEAN Business Award for 'Combating COVID-19.' LXML is widely recognised as an outstanding business in the region supporting COVID-19 prevention.
Since operations commenced in 2002, LXML has contributed over US$1.5 billion dollars in direct revenue to the Lao Government through taxes, royalties, and dividends. LXML has invested an additional US$50 million in infrastructure, US$50 million in UXO clearance, and millions more in cultural heritage preservation and other development programs to raise living standards in communities surrounding Sepon mine. More than 40,000 people in Vilabouly District have benefitted from over US$16 million in development projects. Income through local business groups supported by the mine has accumulated to US$33 million, creating local livelihoods.
LXML has invested millions of dollars in development and training to boost employment for over 10,000 Lao employees.  LXML's workforce comprises over 2,500 employees, in addition to a range of contract partners.
LXML stands committed to investment in creating mining excellence and prosperity for all in the Lao PDR.